Super Bowl History
M10 - SEASON 1

ddhamaka
21
Yaozer
13

M10 - SEASON 2

Mauve
31
BigRed
3

M11 - SEASON 3

Wiggler
36
Elite
33

M11 - SEASON 4

Yaozer
35
phil
14

M11 - SEASON 5

Yaozer
38
Hellcat
28

M11 - SEASON 6

Justice
20
Langston
17

M11 - SEASON 7

Yaozer
30
COBB
24

M12 - SEASON 8

PTC
31
Lethal
30

M12 - SEASON 9

Yaozer
34
BigRed
31

M12 - SEASON 10

PTC
17
Prince
16

M12 - SEASON 11

Prince
45
Philly
28

M12 - SEASON 12

Hellcat
35
NorrinRadd
33

M12 - SEASON 13

NorrinRadd
28
Philly
17

Broncos Sign 16 in Free Agency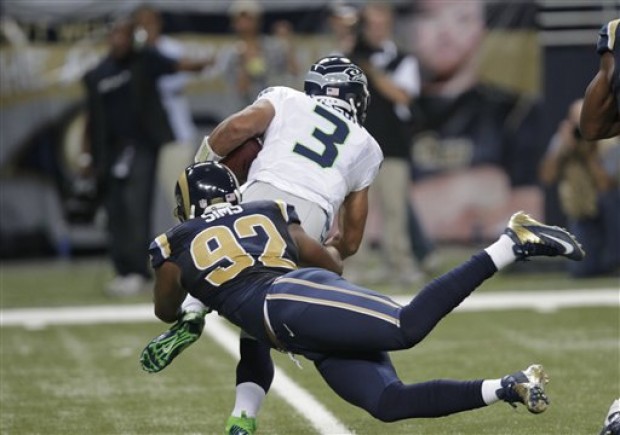 Above: Defensive end Eugene Sims tackles Seahawks quarterback Russell Wilson for a sack in 2013 (Courtesy: St. Louis Post-Dispatch)
Fresh off of another playoff disappointment in 2013 (albeit one with more success than the divisional loss to the Ravens in 2012), the Denver Broncos bolstered their roster with the addition of 16 players in free-agency.

The players signed by Denver are fullback Braden Wilson, receivers Devon Wylie, Mike Brown, and Gerell Robinson, tight end D.C. Jefferson, offensive linemen Nick Mondek and Jason Slowey, defensive ends Eugene Sims and Sam Montgomery, linebackers Sammy Brown, Kevin Reddick, Pat Angerer and Joe Holland, and corners Robert McClain and A.J. Jefferson.

Sims, 28, is a former 2009 sixth-round pick of the St. Louis Rams. A starter for the past two seasons, Sims notched six sacks in his time with the Rams. Along with second year ends Quanterus Smith and Sam Montgomery, Sims will compete for a starting job opposite Robert Ayers.

A sixth-round pick of the Kansas City Chiefs in last year's draft, Wilson sat out much of 2013 as a reserve player and special teamer for the Chiefs. Broncos Vice President of Personnel John Elway was quoted as saying Wilson will "step in immediately" as the starting fullback in camp.

The signings of both McClain and Jefferson indicate a response to the unexpected retirement of cornerback Champ Bailey left the Broncos will a hole to fill in free agency in the defensive backfield. The duo of young corners are expected to compete for a nickel or dime role for the Broncos as Dominique Rodgers-Cromartie and Chris Harris take over as the every down outside corners.

Head coach Dan Allen was positive about this year's crop of free-agent signings when addressing the media on Thursday night.

"We've brought in guys who can compete for starting spots and can contribute to this team, not just fillers for camp," Allen said. "John (Elway) and I didn't look for players who wanted a paycheck and a shot to make a roster. We wanted to go out and get guys who are determined to make an impact at the professional level and this group of men will get a shot to crack the rotation come August."

Guys like Eugene (Sims) and Jason (Slowey) will immediately step into roles as starters even with the upcoming addition of this year's rookie draft class," Allen further elaborated. "We've still got a few holes to fill, but we're confident we've already got the pieces here to continue a tradition of winning in Denver."

The Broncos will have the 31st-overall pick in the 2014 NFL Draft, which takes place on Friday, February 21.
_________________
Franchise Record: 224-209Playoffs Record: 3-6Madden 15 (Broncos): 15-24
Season 27: 3-4
Season 26: 9-7 (3rd Division)
Season 25: 3-13 (4th Division)
Madden 25 (Broncos): 61-28
Season XX: 2-1 (DNF)
Season 24: 11-5 (2nd Division, L in Wildcard)
Season 23: 12-4 (1st Division, L in Super Bowl)
Season XX: 5-1 (DNF)
Season 22: 9-7 (2nd Division)
Season 21: 11-5 (2nd Division, L in Wildcard)
Season 20: 11-5 (2nd Division, L in Wildcard)
Madden 13 (49ers) Season XX: 4-5 (DNF)

Commissioner




Posts

: 2352


Join date

: 2010-09-04


Age

: 26


Location

: Pittsburgh




---
Permissions in this forum:
You
cannot
reply to topics in this forum